There are at least 32 health Research Ethics Committees (RECs) in the publicly funded health service. Some approve research taking place in the organisation to which they belong, while others have a regional remit and can approve hospital and CHO based research.
Not withstanding the current lack of REC coverage in CHO6, CHO7 and CHO9  under no circumstances should a research study requiring REC approval go ahead without first receiving a favourable opinion from a REC – please contact the R&D team (ResearchandDevelopment@hse.ie) for advice.
At present studies involving multiple healthcare sites, require multiple REC approvals with the exception of Clinical Trials for Investigational Medicinal Products (CT-IMPs). In these cases, a single approval can be sought from one of the 12 RECs that are approved by the Department of Health (DoH) to grant national or multi-site approval for this purpose.
Applications forms are for CT-IMPs are available from the Department of Health website, along with guidance notes.
In 2019 the Department of Health commenced the process of establishing a single national committee for approval of clinical trials in order to enable Ireland to comply with the new Clinical Trial regulations. It is expected that the new National REC will be operational by 2020 and will expand its remit to facilitate approval to other multi-site clinical studies.
Select the regions below for links to Research Ethics Committees (RECs) in your area or from the list of committees that cover the entire country.
Research Ethics Committees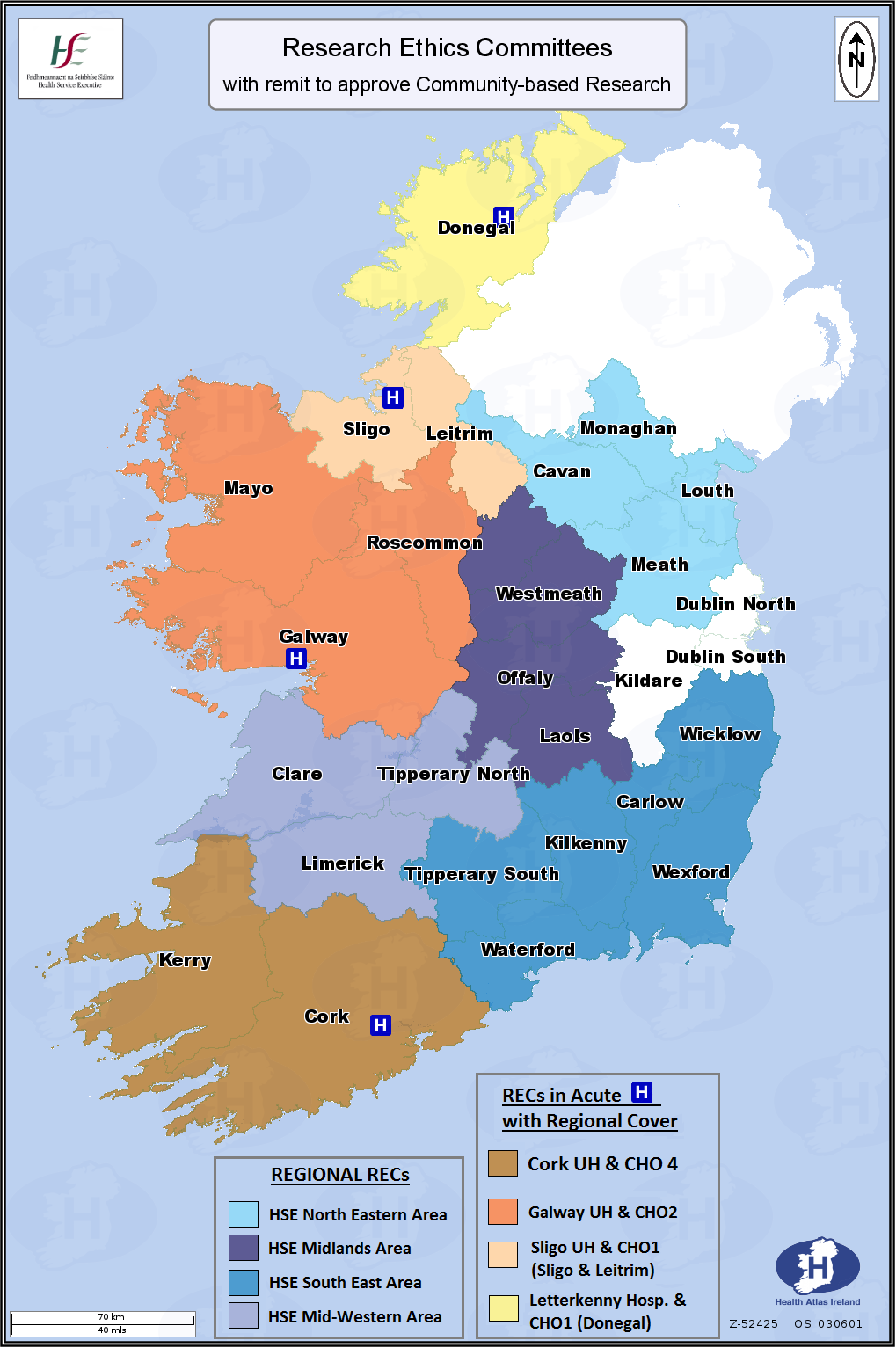 RECs for Community Healthcare Organisation-Based Research
RECs for Community-Based Research (non CT-IMPs)
RECs for Hospital-Based Research
RECs for Hospital-Based Research (non CT-IMPs)
Recognised RECs under Regulation 7
Single and Multi-Site Clinical Trials of Investigational Medicinal Products (CT-IMPs)
As per February 2019 there is full national coverage for hospital-based research but not for CHO based research, and although many hospital RECs currently accept CHO applications in these areas, gaps remain. The HSE Research and Development is currently working with relevant stakeholders to resolve this situation as soon as possible.
Recognised RECs for Ionising Radiation
The 12 CTIMPs RECs are also recognised to provide ethical approval for clinical trials of investigational medicinal products which fall within the scope of the Ionising Radiation Regulations (SI No. 256 of 2018).
St. Luke's Institute of Cancer Research, the research arm of the St. Luke's Radiation Oncology Network, was established in 1992 to undertake research activity in the field of cancer prevention, treatment, care and cure. Since 2019, St Luke's Research Oncology Network Research Ethics Committee has been recognised by the Department of Health to review studies relating to ionising radiation (in addition to its usual REC functions). Please note this REC does not review CTIMPs.
Information on Consent
Internal HSE Approval Requirements
Some studies may also require approval from the relevant Head of Service/ HSE Corporate Lead/ National Director/ Service Division Lead before the study commences. In these cases please complete the HSE National and Corporate Research Approval Form and submit for approval to the relevant HSE person. Once the form is completed and signed, please return it to NationalR&DOffice@hse.ie