Establishment of the first HSE Reference REC
The HSE is now seeking Expression of Interests for Membership of the new HSE's Reference Research Ethics Committee for Regional Health Area B. This area includes: Longford, Westmeath, Offaly, Laois, Kildare, parts of Dublin, and Wicklow – i.e, all of current CHO7 and CHO8 except for Louth. This committee will accept research proposals involving HSE services and HSE-funded services within this region plus applications from National Services and Corporate Divisions.
We are inviting Expression of Interests for Membership of this HSE's Reference Research Ethics Committee (EoI) from experts, lay members, and patient and public representatives. We are looking for candidates who may wish to become regular REC members, Chair, and Deputy Chair. Previous experience is not necessary and training will be provided.
Further information and the EoI form are available HERE. Please submit Expressions of Interest via email to hse.rec@hse.ie by 30th November 2021.
What are the HSE Reference RECs?
The HSE is in the process of reforming the HSE Research Ethics Committee System. This reform will lead to the establishment of six regional HSE Reference Research Ethics Committees (HSE RRECs). These will provide a service to HSE and HSE-funded services that do not have access to a REC.
All HSE RRECs will operate to a standard Code of Practice and will report to a National Committee for the Governance, Management, and Support of Research (to be operational in early 2022). These RRECs will be supported by the National RREC Support and Coordination Office (SCO).
In December 2021, the SCO will publish the Roadmap for the Reform and the Standard Code of Practice for HSE RRECs. An online information webinar about the REC reform took place on Wednesday, 3th November 2021. Webinar and presentation available to view.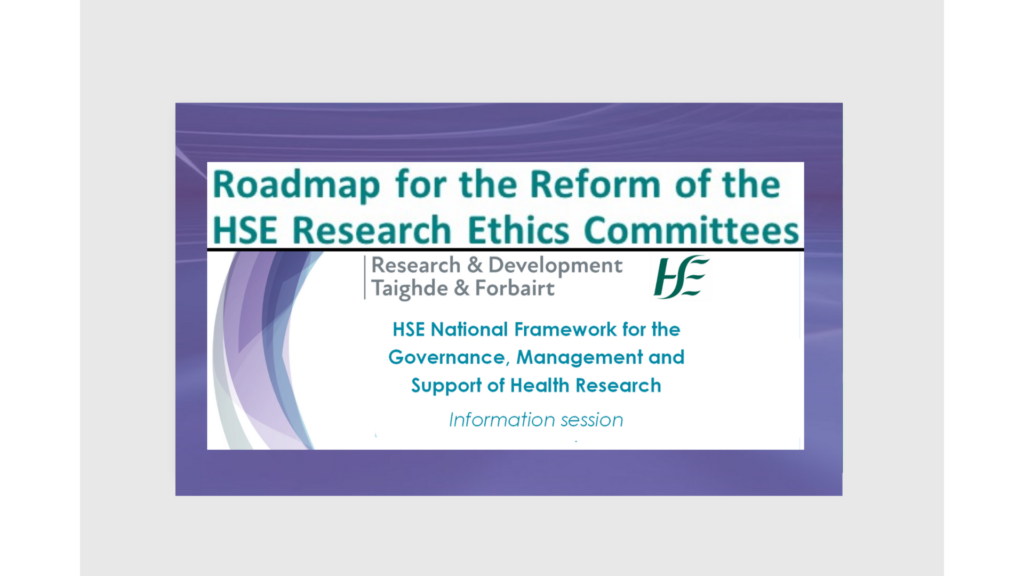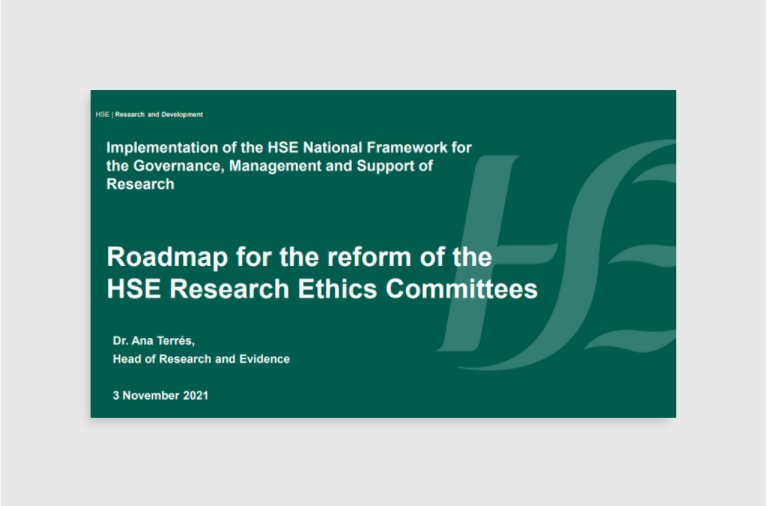 HSE RREC Support and Coordination Office
The HSE RREC Support and Coordination Office (SCO) is currently being established to support the HSE RRECs. The SCO will support the recruitment and training of members, support with the implementation of all relevant operational protocols. The SCO will develop a quality assurance program to ensure REC compliance with the standard code of practice.
Should you have any queries please contact us at hse.rec@hse.ie