---
Title: Legal Insight Training Series 2: Clinical Contract Template Training Part 1
Event Type: Webinar (Microsoft Teams)
When: Wednesday November 22, 2023 at 13:00-14:00pm
Audience: This series is open to those working in the HSE and the HSE-funded organisations. This session will cover the following topics, including when to use the Model Agreement, understanding the terms of the Model Agreement, amendments to the Model Agreement, ensuring correct parties to the Agreement, and data protection considerations.
Hosted by: HSE Research and Development
Speaker 1: Hilda O'Keeffe, Partner, Comyn Kelleher Tobin LLP
Speaker 2: Conor White, Soliticor, Comyn Kelleher Tobin LLP
Chair and Q&A Moderator: Cllr Racheal Batten MA, LLB,Hdip,BL, APA
---
Title: Legal Insight Training Series 3: Clinical Contract Template Training Part 2
Event Type: Webinar (Microsoft Teams)
When: Wednesday November 29, 2023 at 13:00-14:00pm
Audience: Audience: This series is open to those working in the HSE and the HSE-funded organisations. This session will continue on from the previous seminar discussing the following topics, including when to use the Model Agreement, understanding the terms of the Model Agreement, amendments to the Model Agreement, ensuring correct parties to the Agreement, and data protection considerations
Hosted by: HSE Research and Development
Speaker 1: Hilda O'Keeffe, Partner, Comyn Kelleher Tobin LLP
Speaker 2: Conor White, Soliticor, Comyn Kelleher Tobin LLP
Chair and Q&A Moderator: Cllr Racheal Batten MA, LLB,Hdip,BL, APA
---
Title: Legal Insight Training Series 4: Intellectual Property Pitfalls in Contracts
Event Type: Webinar (Microsoft Teams)
When: Tuesday December 05, 2023 at 13:00-14:00pm
Audience: Audience: This series is open to those working in the HSE and the HSE-funded organisations. This practical session will explain the key types of formal intellectual property (IP); protection of formal IP; data assets and innovation; ownership, licensing and commercialisation of intellectual property; and important intellectual property, trade secrets and confidential information considerations when entering into contracts. 
Hosted by: HSE Research and Development
Speaker 1: Peter Bolger, Partner, Technology and Commercial. EY Law Ireland, is a Partner at EY Law Ireland with over 20 years' experience, advising on intellectual property matters including management, deployment, licensing and commercialisation of intellectual property; and governance and related arrangements. Peter advises universities on technology transfer, IP and establishment of collaboration centres, and advised Government stakeholders in respect of the drafting of the Trade Secrets Directive. Peter also advises on the application of AI
Chair and Q&A Moderator: Cllr Racheal Batten MA, LLB,Hdip,BL, APA
---
Title: Legal Insight Training Series 5: Data Protection Governance
Event Type: Webinar (Microsoft Teams)
When: Wednesday December 13, 2023 at 13:00-14:00pm
Audience: Audience: This series is open to those working in the HSE and the HSE-funded organisations. This practical session will discuss some key data protection considerations when engaging with third parties in a health research study; understanding the HSE's and your responsibilities when working with third parties on a research study; the meaning and consequences of anonymisation and pseudonymisation; and the regulatory requirements when contracting and sharing data outside of Ireland.
Hosted by: HSE Research and Development
Speaker 1: Rob Haniver, Partner, Technology and Commercial, EY Law Ireland, is a Partner at EY Law Ireland with over 16 years' experience, advising on data protection and privacy, data governance, cybersecurity, technology procurement, outsourcing and transformation projects and emerging issues surrounding Artificial Intelligence and Web3. Rob advises clients across sectors, including health, on data sharing, security, international transfers, law enforcement requests, anonymisation and pseudonymisation, and the intersection of Irish data protection laws with data governance, security, re-use and localisation.
Speaker 2: Sophie Delaney, Associate, Technology and Commercial, EY Law Ireland, is an Associate at EY Law Ireland with significant experience advising clients across sectors on a wide range of data protection and privacy, cybersecurity, intellectual property and technology matters. Sophie's experience includes working as part of international teams on cross-jurisdiction privacy issues and assisting with European-wide data protection projects.
Chair and Q&A Moderator: Cllr Racheal Batten MA, LLB,Hdip,BL, APA
---
Past Events
Title: Legal Insight Training Series 1: Data Protection Law
Event Type: Webinar (Microsoft Teams)
When: Wednesday November 15, 2023 at 13:00-14:00pm
Audience: Audience: This series is open to those working in the HSE and the HSE-funded organisations. This practical data protection session will discuss the HSE's and your roles and responsibilities in a health research context.  It will cover important issues such as who is a 'controller' and 'processor'; the application of GDPR principles to research studies; what is 'accountability' and how this affects us; and the importance of good data governance
Hosted by: HSE Research and Development
Speaker 1: Rob Haniver, Partner, Technology and Commercial, EY Law Ireland, is a Partner at EY Law Ireland with over 16 years' experience, advising on data protection and privacy, data governance, cybersecurity, technology procurement, outsourcing and transformation projects and emerging issues surrounding Artificial Intelligence and Web3. Rob advises clients across sectors, including health, on data sharing, security, international transfers, law enforcement requests, anonymisation and pseudonymisation, and the intersection of Irish data protection laws with data governance, security, re-use and localisation.
Speaker 2: Sophie Delaney, Associate, Technology and Commercial, EY Law Ireland, is an Associate at EY Law Ireland with significant experience advising clients across sectors on a wide range of data protection and privacy, cybersecurity, intellectual property and technology matters. Sophie's experience includes working as part of international teams on cross-jurisdiction privacy issues and assisting with European-wide data protection projects.
Chair and Q&A Moderator: Cllr Racheal Batten MA, LLB,Hdip,BL, APA
Access video (To be updated)
---
Title: POWER, POLICY AND POLITICS – ANALYSIS OF THE GOVERNANCE OF REGIONAL HEALTH AREA POLICY DESIGN AS PART OF SLÁINTECARE'S IMPLEMENTATION
Event Type: Webinar (hosted by IMS via Zoom)
When: Thursday June 29, 2023, 13:00-14:00pm
Audience: This event will be particularly relevant to staff interested in healthcare policy, Sláintecare objectives, human resources and workforce planning, including staff health and wellbeing, and those rolling out new services and patient care pathways across the country. There will be a facilitated discussion session, during which you will be able to pose questions to the speakers.
Hosted by: Joint Research Webinar Series 4 in Collaboration with HSE Research and Development, HSE Operations Planning and TCD Centre for Health Policy & Management
Speaker 1: Prof Sara Burke is an Associate Professor in Health Policy and Management and the Director of the Centre for Health Policy and Management, which is part of the Discipline of Public Health and Primary Care in the School of Medicine, Trinity College Dublin. She is the PI of a research project entitled 'Health system foundations for Sláintecare implementation in 2020 and beyond – co-producing a Sláintecare Living Implementation Framework with Evaluation: Learning from the Irish health system's response to COVID-19'.
Speaker 2: Prof Carlos Bruen is an Assistant Professor in Health Policy and Management and Course Director of the MSc in Health Services Management at the Centre for Health Policy and Management, Trinity College Dublin.
Chair and Q&A Moderator: Liam Woods, Director, RHA Implementation, HSE
Access Video: (links to YouTube)
---
Title: HIGHLIGHTS FROM THE PRESTO REPORT: AN ANALYSIS OF RESILIENCE AND SUSTAINABILITY IN THE IRISH HEALTH SYSTEM WITH PARTICULAR FOCUS ON THE COVID-19 ERA.
Event Type: Webinar (hosted by IMS via Zoom)
When: Thursday May 25, 2023, 13:00-14:00pm
Audience: This event will be particularly relevant to staff interested in healthcare policy, Sláintecare objectives, human resources and workforce planning, including staff health and wellbeing, and those rolling out new services and patient care pathways across the country. There will be a facilitated discussion session, during which you will be able to pose questions to the speakers.
Hosted by: Joint Research Webinar Series 4 in Collaboration with HSE Research and Development, HSE Operations Planning and TCD Centre for Health Policy & Management
Speaker 1: Prof. Steve Thomas is the Edward Kennedy Chair of Health Policy and Management and the Director of Health Policy and Engagement for the School of Medicine. He is also a Health Research Board Research Leader with his RESTORE programme, focussed on health system resilience and reform.
Speaker 2: Dr Padraic Fleming is a Research Fellow, Public Health & Primary Care, Trinity College Dublin
Speaker 3: Catherine O'Donoghue is a Research Assistant, Public Health & Primary Care, and Trinity College Dublin
Chair and Q&A Moderator: Dr Stephanie O'Keeffe, National Director, Operations Planning, HSE
Access Video: (links to YouTube)
---
Title: COMPLEXITY-INFORMED LESSONS FROM THE PANDEMIC RESPONSE FOR UNIVERSAL HEALTH SYSTEM REFORM
Event Type: Webinar (Webex)
When: Thursday April 27, 2023, 13:00-14:00pm
Audience: This event will be particularly relevant to staff interested in healthcare policy, Sláintecare objectives, human resources and workforce planning, including staff health and wellbeing, and those rolling out new services and patient care pathways across the country. There will be a facilitated discussion session, during which you will be able to pose questions to the speakers.
Hosted by: Joint Research Webinar Series 3 in Collaboration with HSE Research and Development, HSE Operations Planning and TCD Centre for Health Policy & Management
Speaker 1: Dr Sarah Parker, Research Fellow, Centre for Health Policy and Management, Trinity College Dublin
Speaker 2: Prof Sara Burke, Associate Professor and Director of Centre for Health Policy and Management, Trinity College Dublin
Chair and Q&A Moderator: Martina Queally, Chief Officer, Community Healthcare East, HSE
Access Video: (links to YouTube)
---
Title: WORKFORCE RESILIANCE AND IMPLICATIONS FOR HEALTH SYSTEM REFORM – LEARNING FROM AUSTERITY AND COVID-19
Event Type: Webinar (Webex)
When: Thursday March 30, 2023, 13:00-14:00pm
Audience: This event will be particularly relevant to staff interested in healthcare policy, Sláintecare objectives, human resources and workforce planning, including staff health and wellbeing, and those rolling out new services and patient care pathways across the country. There will be a facilitated discussion session, during which you will be able to pose questions to the speakers
Hosted by: Joint Research Webinar Series 2 in Collaboration with HSE Research and Development, HSE Operations Planning and TCD Centre for Health Policy & Management
Speaker 1: Dr Padraic Fleming is a Research Fellow, Public Health & Primary Care, Trinity College Dublin
Speaker 2: Prof Steve Thomas is the Edward Kennedy Chair of Health Policy and Management and the Director of Health Policy and Engagement for the School of Medicine. He is also a Health Research Board Research Leader with his RESTORE programme, focussed on health system resilience and reform.
Chair and Q&A Moderator: Dr Philippa Ryan Withero, Assistant National Director Human Resources, Strategic Workforce Planning and Intelligence, HSE
Access Video: (links to YouTube)
---
Title: SHARE AND LEARN KNOWLEDGE TRANSLATION WEBINAR: 8
Event Type: Webinar
When: Wednesday March 15, 2023, 10:00-11:00am
Audience: This webinar is aimed at anyone interested in research and using research knowledge in practice, active researchers, and those involved in research support management and governance of health research in the HSE and its funded organisations.
Hosted by: National HSE Research and Development
Speaker 1: Dr Deirdre Daly is an Associate Professor, School of Nursing and Midwifery, Trinity College Dublin and will share findings from the Maternal Health and Maternal Morbidity in Ireland Study (MAMMI) and show how these led to the co-development of resources based on what women said 'they wish they had known".
Speaker 2: Sinead Thompson, Community Midwife, National Women and Infant's Health Programme and will present on the 'Labour Hopscotch Framework: Improving outcomes for Mothers and Babies'. The findings from the framework proved that with a multidisciplinary approach to birth preparation Labour Hopscotch H can significantly lower the C-section and epidural rate, and increase birth satisfaction rates for women and their partners.
Access Video: (Links to YouTube)
---
Title: ASSESSING IRELAND'S HEALTH SYSTEM RESILIENCE DURING THE FIRST 18 MONTHS OF COVID-19: LEARNING FOR HEALTH SYSTEM REFORM
Event Type: Webinar (hosted by IMS via Zoom)
When: Thursday February 23, 2023, 13:00-13:50pm
Audience: This event will be particularly relevant to staff interested in healthcare policy, Sláintecare objectives and those rolling out new services and patient care pathways across the country. There will be a facilitated discussion session, during which you will be able to pose questions to speakers.
Hosted by: Joint Research Webinar Series 1 in Collaboration with HSE Research and Development, HSE Operations Planning and TCD Centre for Health Policy & Management
Speaker 1: Professor Sara Burke, Associate Professor and Director of the Centre for Health Policy and Management, Trinity College Dublin
Speaker 2: Professor Steve Thomas, Edward Kennedy Professor of Health Policy and Management, Centre for Health Policy and Management, Trinity College Dublin
Moderator: Dr Stephanie O'Keeffe, National Director Operations Planning, HSE will chair the seminar and will moderate a Q&A session.
Access Video: (Links to YouTube)
---
Title: LAUNCH OF THE HSE NATIONAL POLICY FOR CONSENT FOR HEALTH & SOCIAL CARE RESEARCH
Event Type: Live webinar policy launch
When: Thursday 09th February 2023, 14:30-16:00pm
Audience: This launch event is open to everyone but it is primarily aimed at internal and external researchers conducting research in the HSE, managers and members of Research Ethics Committees across the HSE and its funded organisations but more broadly it may be of interest to patients/ service users/carers, funders, sponsors of research and third level institutions who are involved in research collaborations with the HSE.
Hosted by: National HSE Research and Development
Book of Speaker Bios: HSE Policy Consent in Health Research Launch Book of Speaker Bios PDF/ 1MB
More information: Download the HSE National Policy for Consent for Health & Social Care Research and read more about consent for health and social care research.
Access video: (Links to YouTube)
@02.04: Policy Launch: Dr Philip Crowley
@13:22: Patient input in the Policy: Ms Ann Cullen
@23:04: Broad Consent: Dr Barry Lyons
@43.39: Panel Discussion
---
Title: SHARE AND LEARN KNOWLEDGE TRANSLATION WEBINAR: 7
Event Type: Webinar
When: Wednesday 18th January 2023, 10.00-11.00am
Audience: This webinar is aimed at anyone interested in research and using research knowledge in practice, active researchers, and those involved in research support management and governance of health research in the HSE and its funded organisations.
Hosted by: National HSE Research and Development
Speaker 1 : Dr. Sarah E. Barry, Assistant Professor of Health Services Management Director, Centre for Health Policy and Management, TCD will speak on the 'Evaluation of Slaintecare implementation'
Speaker 2: Prof. Suzanne Guerin UCD School of Psychology, University College Dublin will speak on 'Maximising impact with effective knowledge transfer using EMTReK (Evidence-based Model for the Transfer and Exchange of Research Knowledge).'
Access video: (Links to YouTube)
---
Title: SHARE AND LEARN KNOWLEDGE TRANSLATION WEBINAR: 6
Event Type: Webinar
When: Wednesday 30th November 10.00-11.00a.m
Audience: This webinar is aimed at anyone interested in research and using research knowledge in practice, active researchers, and those involved in research support management and governance of health research in the HSE and its funded organisations.
Hosted by: National HSE Research and Development
Speaker 1: Michael Foley, Programme Manager for the Trinity PPI Ignite Office, promoting public and patient involvement (PPI) in health-related research across Trinity College Dublin. Michael will talk about Engaged Research – involving the voices of patients and members of the public.
Speaker 2: Kate Morris, Irish Universities Association, will talk about how academia can and does interact with the public sector – practitioners, policy makers, politicians, and how we all might do that better by forming ongoing mutually beneficial relationships.
Access video: (Links to YouTube)
---
Title: SHARE AND LEARN KNOWLEDGE TRANSLATION WEBINAR: 5
Event Type: Webinar
When: 26th October 2022
Audience: This webinar is aimed at anyone interested in research and using research knowledge in practice, active researchers, and those involved in research support management and governance of health research in the HSE and its funded organisations.
Hosted by: National HSE R&D
Speaker 1: Maria O'Brien Programme Manager National Heart Programme/CHAIR.
Making Every Contact Count Implementation strategies – Using Knowledge translation as part of research.
Speaker 2: Anita Munnelly, National Office for Suicide Prevention.
Using research to inform service delivery for Connecting for Life, Ireland's National Strategy to Reduce Deaths by Suicide (2015-2024).
Access video: (Links to YouTube)
---
Title: HSE RESEARCH WRITING MASTERCLASS
Event Type: Webinar
When: 4th October 2022
Audience: This webinar is aimed at anyone interested in research and using research knowledge in practice, active researchers, and those involved in research support management and governance of health research in the HSE and its funded organisations.
Hosted by: HSE Health Library Ireland in collaboration with Elsevier.
Trainer : Ximena Alvira, MD, PhD; Clinical and Research Manager at ELSEVIER Health.
Access video: Please contact HLI@hse.ie to access the video
---
Title: SHARE AND LEARN KNOWLEDGE TRANSLATION WEBINAR: 4
Event Type: Webinar
When: 21st September 2022
Audience: This webinar is aimed at anyone interested in research and using research knowledge in practice, active researchers, and those involved in research support management and governance of health research in the HSE and its funded organisations.
Hosted by: National HSE R&D
Speaker 1: Prof Catherine Hayes, School of Medicine, Trinity College Dublin, and Health Intelligence , Health Service Executive: Translating and disseminating research findings to stakeholders: The We Can Quit 2 pilot trial of smoking cessation in disadvantaged women. From Research to Practice and Policy – steps in the research translation process.
Speaker 2: Dr Clare Lewis, General Manager Office of the National Lead for Integrated Care HSE: The Application of Research to Inform Policy: Adapting and adopting your research to address healthcare priorities in the context of policy and strategy.
Download presentation slides
Access Videos: (Links to YouTube)
---
Title: SHARE AND LEARN KNOWLEDGE TRANSLATION WEBINAR: 3
Event Type: Webinar
When: 27th July 2022
Audience: This webinar is aimed at anyone interested in research and using research knowledge in practice, active researchers, and those involved in research support management and governance of health research in the HSE and its funded organisations.
Hosted by: National HSE R&D
Speaker 1: Dr Austin Warters, Manager of Services for Older People, HSE : Can using administrative data produce impactful research for practice and inform healthcare planning?
Speaker 2: Dr Natalie Hession, Principal Psychologist/Head of Psycho-Oncology Services, St Luke's Radiation Oncology Network, Adjunct Honorary Professor, School of Nursing, Trinity College : Ongoing Impact of Covid-19 on clinical and non-clinical staff working in cancer care.
Download presentation slides
Access Videos: (Links to YouTube)
---
Title: DATA PROTECTION & HEALTH RESEARCH GUIDE TO DATA TRANSFERS & SECONDARY USE
Event Type: Webinar
When: 14th July 2022
Audience: This webinar is aimed at research-active staff and those involved in research support management and governance of health research in the HSE and its funded organisations.
Hosted by: National HSE R&D
Speaker: Ms Anne Bateman
Download presentation slides
---
Title: SHARE AND LEARN KNOWLEDGE TRANSLATION SEMINAR: 2
Event Type: Seminar
When: 29th June 2022
Audience: This seminar is aimed at research-active staff and those involved in research support management and governance of health research in the HSE and its funded organisations.
Hosted by: National HSE R&D
Speakers:

Dr Sheena McHugh, Senior Lecturer and health services researcher at the School of Public Health, University College Cork.
Title of speech: Evidence use among senior management: understanding preferences and practices.
The talk presents the results of a recent qualitative study among senior management in the health service to understand what they consider evidence and how, when and why they use it. The talk includes strategies to support evidence use in the health service. The research was commissioned by the HSE Research and Evidence Unit. Dr McHugh is funded by the HRB Research Leader Award.

Dr Robert O'Driscoll, Senior Addiction Counsellor S.ACI, Coordinator UCC/HSE, Cork Kerry Community Healthcare.
Title of speech: The Change Laboratory: Integrating Evidence-Based Treatment in HSE Addiction Services, Social Work Teams and Community- Based Services.
Robert discuses the lenses that he used to examine a training and implementation of an evidence based treatment for addiction in HSE Cork Kerry Community Healthcare Addiction Services.

Download presentation slides
---
Title: BEGINNERS GUIDE TO COMPLETING A DATA PROTECTION IMPACT ASSESSMENT FOR RESEARCH PROJECTS.
Event type: Webinar
When: Wednesday, 8th June 2022
Audience: This webinar is aimed at research-active staff and those involved in research support management and governance of health research in the HSE and its funded organisations.
Hosted by: National HSE R&D
Speaker: Ms. Anne Bateman (BCL, BL, LLM, CIPP/E) Partner at Philip Lee Solicitors. Anne specialises in technology, data protection and privacy, life sciences, public and administrative law, and dispute resolution.
Download presentation slides (PDF/338KB)
---
Title: SHARE AND LEARN KNOWLEDGE TRANSLATION SEMINAR 1
Event type: Seminar
When: 16th March 2022
Audience: This seminar is aimed at research-active staff and those involved in research support management and governance of health research in the HSE and its funded organisations.
Hosted by: National HSE R&D
Speakers:

Dr Catherine Gill, Health Research Board
Title of speech: A partnership approach to reducing the 'know-do gap' and applying research to practice. Catherine talks about the HRB Applied Partnership Awards, the thinking behind them, and what makes them different.

Dr Karen Matvienko-Sikar, University College Cork
Title of speech: Knowledge translation in developing and implementing the CHErIsH intervention to prevent childhood obesity.
Karen speaks about the Choosing Healthy Eating for Infant Health (CHErIsH) intervention to prevent childhood obesity. The intervention was developed using an integrated knowledge translation approach that included healthcare professionals in primary care throughout the process of developing and implementing the intervention.
Download presentation slides
---
Title: THE VISION FOR THE IMPLEMENTATION OF THE HSE RESEARCH GOVERNANCE, MANAGEMENT AND SUPPORT FUNCTION.
Event type: Webinar
When: 2nd Dec 2021
Audience: This webinar is aimed at research-active staff, those involved in research support management and governance of health research in the HSE and its funded organisations, academic partners, research ethics committees.
Hosted by: National HSE R&D
Speakers: Dr. Ana Terres and Mairead Murray
Download presentation slides (PDF /1,452 KB)
Access video (Link to YouTube)
---
Title: ROADMAP FOR THE REFORM OF THE HSE RESEARCH ETHICS COMMITTEES
Event type: Webinar
When: 3rd November 2021
Audience: This webinar is aimed at research-active staff and those involved in research support management and governance of health research in the HSE and its funded organisations.
Hosted by: National HSE R&D
Speaker: Dr. Ana Terres
Download presentation slides (PPT/1MB)
Access video (Link to YouTube)
---
Title: LAUNCH OF THE HSE NATIONAL FRAMEWORK FOR THE GOVERNANCE, MANAGEMENT AND SUPPORT OF RESEARCH
Event type: Webinar
When: 9th September 2021
Audience: This webinar is aimed at research-active staff, those involved in research support management and governance of health research in the HSE and its funded organisations, academic partners, research ethics committees.
Hosted by: National HSE R&D
Speakers: Mr. Dean Sullivan, Dr. Philip Crowley, Prof. John Laffey, Ms. Sarah McLoughlin, Prof. Helen Whelton and Dr. Ana Terres.
Download presentation slides (PDF/673 KB)
Access video (Link to YouTube)
---
Title: LAUNCH OF THE HSE ACTION PLAN FOR HEALTH RESEARCH
Event type: In person event – Hilton Hotel Kilmainham
When: 9th December 2019
Hosted by: National HSE R&D
Speakers: Mr. Paul Reid, Dr. Stephanie O'Keeffe, Ms. Bernadette Gilroy, Dr. Ann-Marie Brennan and Dr. Philip Crowley, Dr. Ana Terres.
HSE Action Plan for Health Research 2019-2029 (PDF/902 KB)
---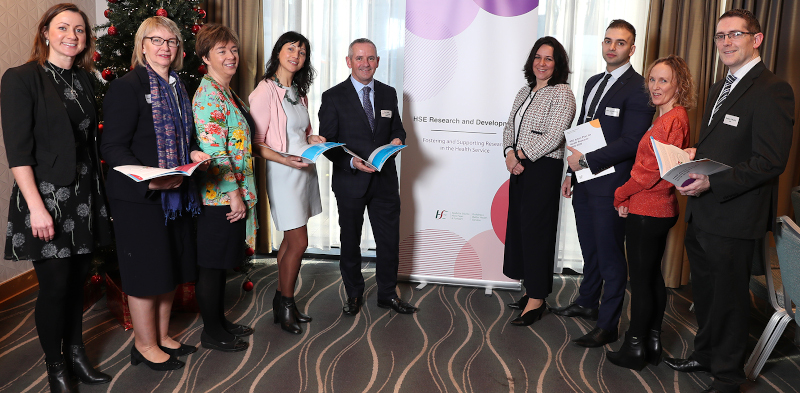 ---